FlexE is a technology for extending standard Ethernet PHYs to add support for bonding, sub-rating, and channelization and also provides support for a side-band message channels and time synchronization.  The FlexE 2.0 Implementation agreement supports homogeneous collections of 100GbE, 200GbE, and 400GbE PHYs.  Work is in progress on the FlexE 2.1 Implementation Agreement, which will add support for 50GbE PHYs.
FlexE 2.1
This project will extend the FlexE 2.0 IA to add support for forming FlexE Groups from 50GBASE-R PHYs in addition to the existing support for 100GBASE-R, 200GBASE-R, and 400GBASE-R PHYs. This support is important use cases that include the 5G backhaul network.
---
Press Releases
---
Demos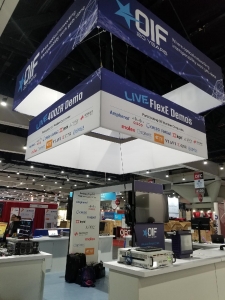 ---
Past Speaking
ECOC 2018
NGON and DCI Europe
---
For more information contact David Ofelt Physical and Link Layer Working Group, Protocol Vice Chair at ofelt@juniper.net.
For information on other OIF current projects, please see OIF Current Work
For public OIF Implementation Agreements, please see Implementation Agreements (IAs)