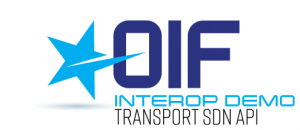 Leading the acceleration of the commercialization of transport SDN worldwide and transport network transformation for the 5G era, Optical Internetworking Forum (OIF), will bring new use cases and deployment scenarios into Telefonica's lab to test multi-vendor interoperability of Layer 1 and Layer 0 OTN control using ONF T-API 2.1.3 and OpenConfig device APIs. The 2020 Transport SDN Application Programming Interface (API) interoperability demonstration builds on OIF's previous transport API requirements and interoperability demonstrations which substantiated T-API as the northbound interface (NBI) of choice, establishing a foundation for open, programmable networks that allow network operators to efficiently deliver dynamic multi-domain connectivity services to the market.
A public read-out event took place January 12, 2021 and a technical whitepaper will be available to the public in Q1 2021.
---
White Paper
Click HERE to request the OIF 2020 Transport SDN API Interop Demo White Paper
---
Public Read-out Webinar hosted by Lightwave
Click HERE for on demand viewing. This event was broadcast on January 12, 2021.

The adoption of open optical networking relies in part on standard management interfaces and multivendor interoperability. This webinar reviewed the successful and insightful OIF Transport SDN API Interop Demo. Network operators presented their views.
Transport network evolution toward open optical networking
Demo lab configuration and test cases
Findings and observations
Next steps
---
Infographic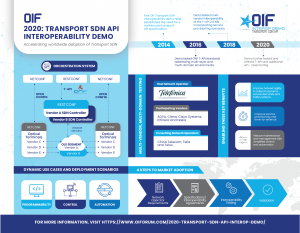 ---
Demo Participants
Network Operator
             Vendors               Consulting Network Operators
---
Press Releases
February 2, 2021 – OIF Validates Maturity of Transport SDN APIs in 2020 Multi-Vendor Interoperability Demonstration – Results published in new white paper
December 2, 2020 – OIF Completes Successful 2020 Joint Network Operator, Multi-Vendor Transport SDN API Interoperability Demonstration
June 16, 2020 – OIF Announces Participants in 2020 Joint Network Operator, Multi-Vendor Transport SDN API Interoperability Demonstration
---
Speaking Engagements
OIF gave presentations on the status of the 2020 OIF Transport SDN API Interoperability Demonstration at the below events:
NGON & DCI World Digital Symposium – Friday 04 December 2020, OIF Speaker: Arturo Mayoral López de Lerma, Telefonica S.A
ECOC – Monday 07 December 2020, OIF Speaker: Arturo Mayoral López de Lerma, Telefonica S.A