Successful collaborative demo identified multiple success points and areas where additional work is needed to enhance performance – white paper to provide deep dive and outline specifics
Fremont, Calif.—August 7, 2018 – Detailed results from the OIF's (Optical Internetworking Forum) 2018 Software-Defined Networking (SDN) Transport Application Programming Interface (T-API) multi-vendor interoperability demonstration showcasing new dynamic behavior use cases and deployment scenarios are available in a white paper published today. To request a copy, please go here.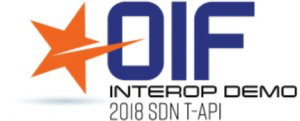 Demo results were initially announced at a public read-out at NGON in Nice, France, and at two invitation-only events earlier this month at CenturyLink and China Telecom. An additional read-out was held last week during MEF's Annual Meeting in Nashville, Tenn.
Following a six-week testing period, the OIF released its findings through liaisons to industry bodies.  Among the findings are the following (additional details on the testing and results can be found in the white paper):
Open Networking Foundation (ONF) T-API 2.0 specifications have addressed the main issues identified in the OIF's 2016 testing and provide a basis for real-time orchestration of on-demand connectivity setup, control and monitoring across diverse multi-layer, multi-vendor, multi-domain carrier networks
Additional scaling and performance enhancements will need to be addressed as T-API is deployed in real networks, such as refinements to the model, greater detail in error codes to improve debugging properties, and potential implementation options such as a separate server for notifications of network events
The API allows for some variability in the use of topology abstraction depending on business requirements and technology; documentation of supplementary examples for topology abstraction will help application and orchestration software developers.
"Standardized and open SDN APIs reduce complexity in intra and inter-domain operations, allowing us to provide more diverse services to our customers in less time," said Park Jin-hyo, EVP of ICT R&D Center at SK Telecom. "After successfully completing the test trial, SK Telecom will keep engaging in 5G transport network and service development by opening APIs and transforming the current infrastructure into Network-as-a-Service (NaaS) Platform."
The multi-vendor demo led by four network operator labs included lab-deployed and cloud-deployed systems testing new dynamic behavior use cases and deployment scenarios. The demo also incorporated service provisioning scenarios at the LSO Presto reference point in the MEF LSO architecture, using the MEF NRP Interface Profile Specification (MEF 60), which defines extensions to T-API in support of Carrier Ethernet services.
Participating network operators were CenturyLink, China Telecom, SK Telecom and Telefónica and vendors included ADVA, Coriant, Infinera, NEC/Netcracker, Nokia and SM Optics. Centre Tecnològic de Telecomunicacions de Catalunya (CTTC) was a participating academic institution and TELUS Communications participated as a consulting network operator.
Additional information and an infographic can be found at http://www.oiforum.com/meetings-and-events/2018-oif-sdn-t-api-demo/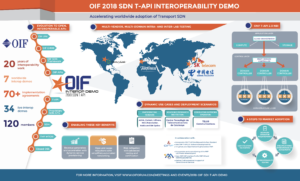 2018 OIF SDN Transport API Interoperability Demonstration
Committed to accelerating the commercialization of transport SDN worldwide, the Optical Internetworking Forum (OIF), in collaboration with MEF, will bring new dynamic behavior use cases and deployment scenarios into network operator labs around the world to test multi-vendor interoperability of the industry leading T-API 2.0 northbound interface (NBI) from the Open Networking Foundation (ONF). The 2018 Software-Defined Networking (SDN) Transport Application Programming Interface (T-API) interoperability demonstration builds on the OIF's 2016 interoperability test and demonstration which addressed multi-layer and multi-domain environments as well as on the 2014 demo which prototyped the use of Northbound APIs and helped advance transport SDN standardization. For an infographic of the demo, click here.
About the OIF
The OIF facilitates the development and deployment of interoperable networking solutions and services. Members collaborate to drive Implementation Agreements (IAs) and interoperability demonstrations to accelerate and maximize market adoption of advanced internetworking technologies. OIF work applies to optical and electrical interconnects, optical component and network processing technologies, and to network control and operations including software defined networks and network function virtualization. The OIF actively supports and extends the work of national and international standards bodies. Launched in 1998, the OIF is the only industry group uniting representatives from across the spectrum of networking, including many of the world's leading service providers, system vendors, component manufacturers, software and testing vendors. Information on the OIF can be found at http://www.oiforum.com
PR Contact:
Leah Wilkinson
Wilkinson + Associates for the OIF
Email: leah@wilkinson.associates
Office: +1-703-907-0010
https://www.oiforum.com/wp-content/uploads/OIF_Logo_Color-300x161.png
0
0
Leah Wilkinson
https://www.oiforum.com/wp-content/uploads/OIF_Logo_Color-300x161.png
Leah Wilkinson
2018-08-07 20:30:22
2019-01-26 16:47:03
OIF INTEROPERABILITY TEST VALIDATES TRANSPORT APPLICATION PROGRAMMING INTERFACE (T-API) 2.0 MARKET-READINESS – RESULTS PUBLISHED IN NEW WHITE PAPER