Multi-vendor demo showcases new dynamic behavior uses cases and deployment scenarios
Nice, France—June 26, 2018 – Following a six week testing period, the OIF (Optical Internetworking Forum) today announced the conclusion of its 2018 Software-Defined Networking (SDN) Transport Application Programming Interface (T-API) multi-vendor interoperability demonstration. The much-anticipated demo results will be revealed during a public read-out event being held today from 10:00am-12:00pm at NGON & DCI Europe 2018 in Nice, France. ClicktoTweet
Additionally, Juan Pedro Fernández Palacios, Head of Unit, Telefónica will discuss Telefonica's view of the demo results and use cases during his NGON keynote presentation tomorrow, June 27th.
"In bringing together service providers and optical networking vendors to demonstrate new SDN deployment scenarios including dynamic-behavior use cases, the OIF in collaboration with MEF has taken another important step towards providing the foundation for service providers to efficiently deliver dynamic multi-domain connectivity services to market," stated Heidi Adams, Senior Research Director, IP & Optical Networks, IHS Markit. "With the 2018 demo event, the T-API 2.0 interface from the Open Networking Foundation (ONF) is on its way to becoming a standard northbound interface (NBI) to SDN transport network controllers."
OIF, in collaboration with MEF, is leading the industry toward the validation and widespread commercialization of T-API 2.0 from the Open Networking Foundation (ONF) as a standard northbound interface (NBI) to transport network controllers.
The multi-vendor demo led by four network operator labs included lab deployed and cloud deployed systems testing new dynamic behavior use cases and deployment scenarios. The demo also incorporated service provisioning scenarios at the LSO Presto reference point in the MEF LSO architecture, using the MEF NRP Interface Profile Specification (MEF 60), which defines extensions to T-API in support of Carrier Ethernet services.
"The OIF SDN Interoperability demonstration has successfully brought together carriers, vendors and integrators with a common goal of moving to an open API (TAPI)," said Jack Pugaczewski, Distinguished Architect, CenturyLink. "T-API is a key enabler for providing automated service fulfillment and assurance. We have tested the Connectivity, Topology and Notification software patterns that T-API provides. Common APIs reduce design, development and deployment cycles for all involved, thus getting to market faster and realizing the financial benefits of automation."
Participating network operators were CenturyLink, China Telecom, SK Telecom and Telefónica and vendors included ADVA, Coriant, Infinera, NEC/Netcracker, Nokia and SM Optics. Centre Tecnològic de Telecomunicacions de Catalunya (CTTC) was a participating academic institution and TELUS Communications participated as a consulting network operator.
Additionally, two private events detailing the test results will be held with participating network operators: CenturyLink on July 10 in Denver, Colorado and China Telecom on July 19 in Beijing. Members of the media and analyst community interested in attending, please contact leah@wilkinson.associates.
"The OIF's goal for interop events is to improve the quality and clarity of specifications being tested," explained Jonathan Sadler, OIF VP and Networking & Operations Interoperability Working Group Chair. "As the tests were performed, we noted possible points for misunderstanding and places where the specifications may be enhanced. These results will be liaised to ONF and MEF for review at future meetings."
A technical white paper and an executive summary of the demo result will be available in August.
An infographic of the demo is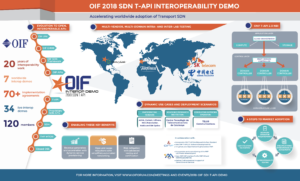 Additional information can be found at 2018 OIF SDN T-API INTEROP DEMO
2018 OIF SDN Transport API Interoperability Demonstration
Committed to accelerating the commercialization of transport SDN worldwide, the Optical Internetworking Forum (OIF), in collaboration with MEF, will bring new dynamic behavior use cases and deployment scenarios into network operator labs around the world to test multi-vendor interoperability of the industry leading T-API 2.0 northbound interface (NBI) from the Open Networking Foundation (ONF). The 2018 Software-Defined Networking (SDN) Transport Application Programming Interface (T-API) interoperability demonstration builds on the OIF's 2016 interoperability test and demonstration which addressed multi-layer and multi-domain environments as well as on the 2014 demo which prototyped the use of Northbound APIs and helped advance transport SDN standardization. For an infographic of the demo, click here.
About the OIF
The OIF facilitates the development and deployment of interoperable networking solutions and services. Members collaborate to drive Implementation Agreements (IAs) and interoperability demonstrations to accelerate and maximize market adoption of advanced internetworking technologies. OIF work applies to optical and electrical interconnects, optical component and network processing technologies, and to network control and operations including software defined networks and network function virtualization. The OIF actively supports and extends the work of national and international standards bodies. Launched in 1998, the OIF is the only industry group uniting representatives from across the spectrum of networking, including many of the world's leading service providers, system vendors, component manufacturers, software and testing vendors. Information on the OIF can be found at http://www.oiforum.com
PR Contact:
Leah Wilkinson
Wilkinson + Associates for the OIF
Email: leah@wilkinson.associates
Office: +1-703-907-0010
https://www.oiforum.com/wp-content/uploads/OIF_Logo_Color-300x161.png
0
0
Leah Wilkinson
https://www.oiforum.com/wp-content/uploads/OIF_Logo_Color-300x161.png
Leah Wilkinson
2018-06-26 17:10:00
2019-01-26 17:21:48
OIF CONCLUDES SUCCESSFUL SDN TRANSPORT API INTEROPERABILITY TESTING – RESULTS TO BE REVEALED TODAY AT NGON